How to set up SEO Tools
About SEO
SEO is a way to use the rules of search engines to improve organic rankings and get more traffic for your websites. Anyweb's SEO Tools allows you to modify how your websites are presented in the search results.
How to set up your SEO Tools in Anyweb
Step 1: Go to SEO Tools
Go to the site list on the Anyweb dashboard.

Select the site you want to set up SEO for and click "Manage".


Select SEO Tools under the Marketing section.

Step 2: Add Search Appearance to Your Site
You can modify the description for your site displayed in the search results (see the right-hand side of the picture). You can edit the SEO titles and descriptions for the homepage and individual pages of your site. The title of your site is the first piece of information seen by users when they search for relevant keywords in the search engine.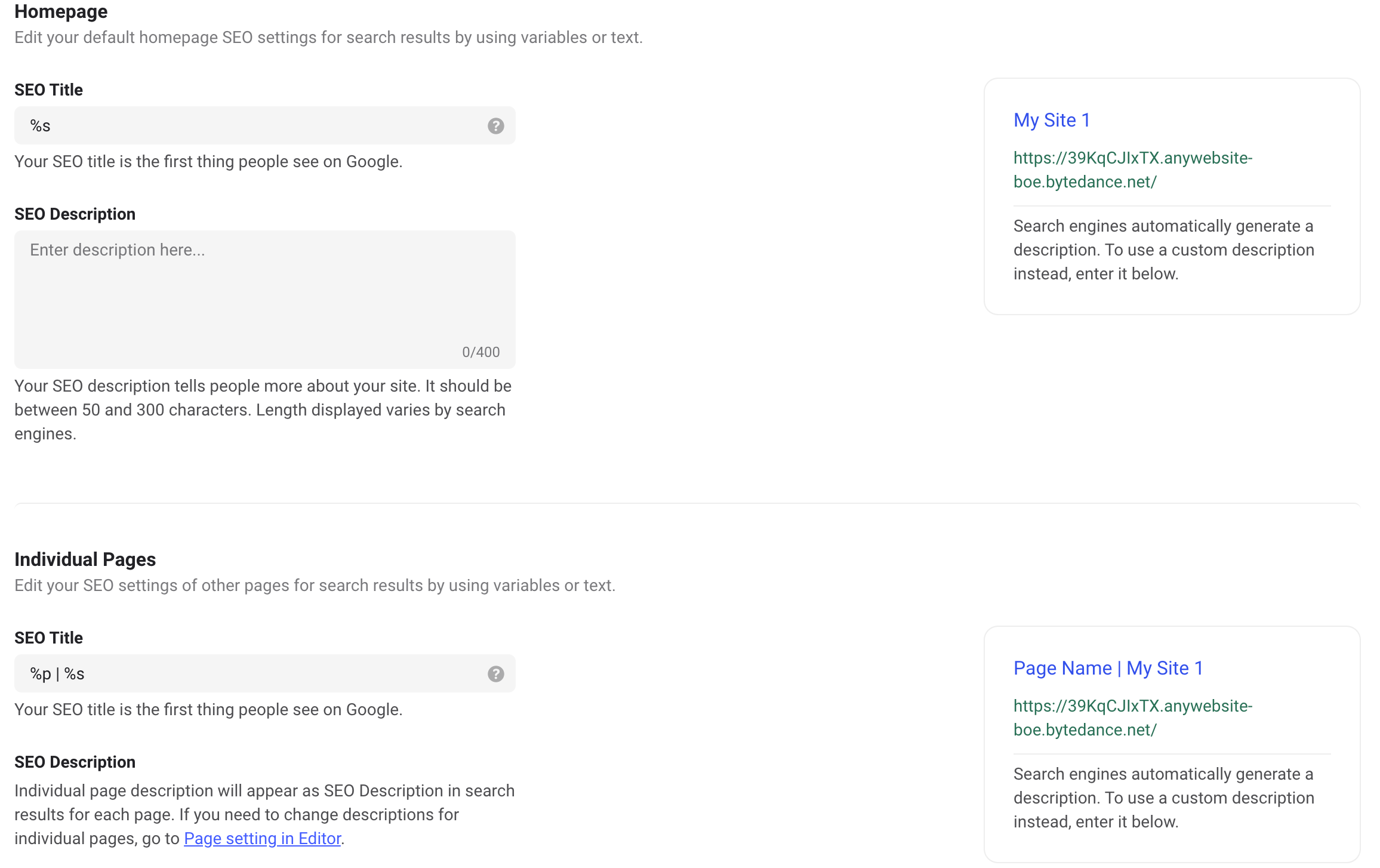 - Homepage (site-level settings): Set the SEO title and description for your homepage.
- Individual pages (page-level settings): Set SEO titles and descriptions for pages other than the homepage. Individual page descriptions will appear as SEO descriptions in search results for each page. If you need to change descriptions for individual pages, go to Page settings in Editor.
Step 3: Connect Your Site to Google Search Console
The changes you make in the SEO Tools for your web pages are not immediately reflected on search engines. Google, for example, may take up to 4 weeks (sometimes even longer) to crawl and update this information.
Google Search Console is a free-to-use tool developed by Google that will help you speed up the process.
Perform the following steps:
Open a Google Search Console account and create a new property.


Insert your website address and click Continue.


Choose to verify website ownership via HTML tag and copy the given meta tag.


On the SEO Tools page of your Anyweb dashboard, paste the meta tag you copied from Google Search Console and click Save.


After 10-15 minutes, go back to the Google Search Console and click Verify. You will see a success message once your ownership is verified.



Once your website is verified, go back to the SEO Tools page of your Anyweb dashboard and copy the sitemap URL.


In Google Search Console, click Sitemaps in the pane on the left. Enter the URL link you copied from Anyweb and click Submit.

For more information about pixel setups for other marketing platforms, see Marketing Integration.
Was this helpful? Click here to give us feedback.